2021
Intermediate/Advanced Clinics
June 28 – August 19, 2021
Mix and Match Skills and Weeks!
$25/session
Summer 2021 offers "a la carte" skill sessions each week to allow for the fun of summer as well as convenience of scheduling. Each Monday thru Thursday night has a designated skill that will be focused on in a small group setting. There are two skill/age level offered within each night to allow proper advancement of skill based off players level. Please note there is not a beginner level this summer, beginners please look into the NEWb's and Advanced NEWb's camps!

1. Choose your level:
>  INTERMEDIATE (6:30-7:45pm) is for ages 12-14

>  ADVANCED (8-9:15pm) is for ages 15-18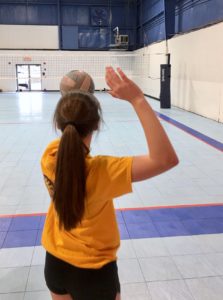 2. Choose your skills:
MONDAY >  defense
TUESDAY  >  setting
WEDNESDAY  >   serve & serve receive
THURSDAY  >  hitting
**More detailed breakdown of dates and skills below for intermediate and advanced sessions.**
3. Check your calendars
Select weeks that work into your summer schedule and click the red button below to sign up!

You will be redirected to an email, please send the following information:

Name
Age/Grade
Years Experience
School
Dates Registering
Session

Defense Mondays
6/28: Platform Passing
7/5: Overhand Passing
7/12: Base to Defense
7/19: Def. vs. outside attack
7/26: Def. vs. middle attack
8/2: Def. vs. right side attack
8/9: Off side block passing
8/16: Passing against all attack
Setting Tuesdays
6/29: Setting handwork
7/6: Setting footwork
7/13: Platform setting
7/20: Setting outsides
7/27: Setting middles
8/3: Setting right sides
8/10: Setting out of system
8/17: Setting with diff. pace
Serve/Receive Wednesdays
6/30: Float serving (Int. FULL)
7/7: Topspin serving
7/14: Serve receive seams
7/21: Passing float
7/28: Passing top spin
8/4: All serving
8/11: Serve receive
8/18: Serve & Serve Receive
Hitting Thursdays
7/1: Approach footwork
7/8: Hitting armswing
7/15: Outside hitting (Int. FULL)
7/22: Middle hitting
7/29: Right side hitting
8/5: Out of system attack
8/12: Transitions to attack
8/19: All hitting